I solo traveled to New Zealand in August 2013. This continues my roadtrip from earlier posts.
I returned to Rotorua for a couple of days to experience a few activities that included Skyline Rotorua, as well as just to relax.
I'm disappointed that I didn't visit any of the cultural sites, but thrills were what I was after, and Skyline Rotorua was it. It had a gondola ride, chairlifts, luge with three separate downhill courses (MOST excited about this!), plus a market-style cafe where I could enjoy lunch. The Skyswing, I absolutely refused to do.
I'm sure this place is most busy during summer, but in winter? No crowds or lines and lots of parking. That also meant no blue skies, which I sorely wished for, but made do with a slight drizzle and gray clouds that eventually cleared a little in the afternoon. The attraction is atop Mt. Ngongotaha and the gondola was the only way up. At the top, the view of the town of Rotorua and Lake Rotorua in the distance spread out in a panorama of residential, commercial and industrial blocks dissected by roads and busy thoroughfares.
I strolled along a short nature walk and went about scoping out the luge. There were three tracks to choose from: Scenic, Intermediate and Advanced. Of course I had to do all three in that order. Luckily there was no one in front of me on each of the runs, so I let loose on the speed and roared down the mountain on a perfectly engineered paved course. I couldn't help but laugh out loud and give a yell or two while zipping down amid a forest of trees at one point, and looked up to see people on the chairlift above. Speed is my thing, so I had a blast!
Once at the bottom, I was really anxious (and not in a good way) to ride the chairlift, but it was the only way back up. When the chair came round, I grit my teeth and held onto the bars in a death grip. On the way up, I slowly looked around and wanted to take pictures so badly, but couldn't let go. But it was all right. With three luge rides down, I had three rides back up. By the second ride, I managed to grab my phone and looked down and around to shoot. By the third ride, I was a pro. I even jiggled the chairlift to turn around for a cool shot of the town. Woohoo! Fear conquered!
After my final luge ride down, I went back up to grab a bite and enjoyed the delicious cappuccino. Sooo good! Here's my day at Skyline Rotorua: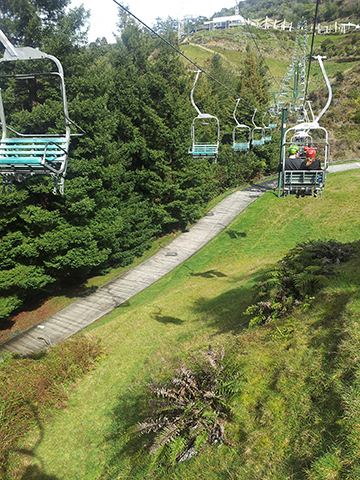 I have to admit that I returned to Rotorua because I was intrigued with a man who shared an interest of mine—terrestrials, government cover ups, the paranormal, spiritual beliefs, etc. No one I know shares this interest, so not only was I was curious to hear what he, I'll call him John, would divulge, but I was a bit excited that someone else shared this unusual pastime.
I can't recall how we got onto the topic in the first place, but John was a talker, which I didn't mind since I'm not much of one myself. He was divorced, had two sons, one of whom was a barista, and dreamt about opening a coffee shop where he could spend his day with customers and talk story. That's what he enjoyed most, talking to people and getting to know their stories. He imagined the coffee shop in a small town, not a busy place since he would have to really work! It would be the local hangout where people could come and go as they pleased. John had a very casual way about him, even somewhat quietly magnetic, so I could see regulars dropping by his cafe on a daily basis. In my experience, not a place to go if you had a schedule to keep to!
So over several breakfast "sessions," we, or rather, he, talked, and I listened, asked questions and shared my own thoughts. I didn't question or entirely believe everything he said, but I didn't totally scoff at him either. John said he was a high-ranking spiritual leader for a small group of people, who met once a month and conducted spiritual sessions during which he traveled to other galaxies or universes, and communicated with other beings.
When talk turned to aliens, or terrestrials, John said there were a number of them living on Earth as human beings, and he could tell them from the real thing. He said he came across a terrestrial in a Wellington bar who asked him for a light. Nothing really happened, but John told the terrestrial in human form that he was aware of who he really was, but that he wouldn't say anything, and left the bar. At this point, I can imagine that you're reading this with either your mouth fully extended or a smirk on your face. I had a mix of both as I listened. Kind of out there, but I found it fascinating since I believe terrestrials exist.
Anyhoo, if you don't think I'm some kind of kook after this post—and even if you do—stick with me. Now on the return route toward Auckland, and unfortunately, the end of my solo adventure, I take roads through Maunganui and stay one night in a nearly empty Whitianga. Stay tuned.